Lessons from a Year in Space
Program Date: November 17, 2018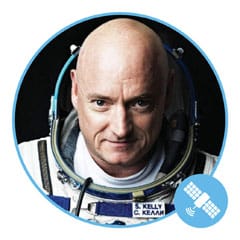 During his record-breaking and DNA-altering year aboard the International Space Station, U.S. astronaut Scott Kelly captivated the world while laying the groundwork for the future of space travel and exploration.
At The Richmond Forum, Captain Kelly will share the science and experimentation that was at the core of the ground-breaking expedition, personal stories from 229 miles above Earth, and his uniquely gained lessons about risk, hope, and human potential.
A year is a long time to live without the human contact of loved ones, fresh air, and gravity, to name a few.
–Captain Scott Kelly
Biography
Scott Kelly is a former military fighter pilot and test pilot, an engineer, a retired astronaut, and a retired U.S. Navy captain. A veteran of four space flights, Kelly commanded the International Space Station (ISS) on three expeditions and was a member of the "One-Year Mission" to the ISS.
The mission's goal was to understand how the human body reacts and adapts to the harsh environment of space. During the flight, almost 400 experiments were conducted on the station. Data from the expedition will be used to reduce risks to the health of crewmembers as NASA prepares to advance space travel beyond low Earth orbit, ultimately to Mars.
In October 2015, Kelly broke the record for most cumulative days living and working in space by a NASA astronaut. (His record has since been broken by astronauts Jeff Williams and Peggy Whitson, the current record holder.)
Kelly was a Flight Engineer for increments 43 and 44 of the mission, and Commander of the International Space Station for increments 45 and 46. Kelly's flight included 5,440 orbits around the Earth and three spacewalks before returning home in March 2016 after 340 continuous days in space, a record that still stands as the longest space mission by an American astronaut.
Since his return, Kelly and his identical twin brother, Captain Mark Kelly (Richmond Forum, 2013), have been the subjects of NASA's Twin Study, which is designed to provide broader insight into the subtle effects and changes that may occur in spaceflight by studying two individuals who have the same genetics, but are in different environments for one year.
Captain Kelly retired from NASA in 2016.
In November 2016, he was appointed to a two-year term as United Nations Champion for Space by the United Nations Office for Outer Space Affairs (UNOOSA) to promote space as a tool for reaching sustainable development goals.
Kelly is the New York Times bestselling author of Endurance: A Year in Space, a Lifetime of Discovery, a memoir of his time aboard the ISS released in October 2017. Sony Pictures has optioned the rights to the book and is developing a film adaptation with Scott and Mark Kelly on board as co-executive producers.
Kelly holds a Bachelor's degree in Electrical Engineering from the State University of New York Maritime College and a Master's in Aviation Systems from the University of Tennessee, Knoxville.
He lives in Houston, Texas, with his fiancée, Amiko Kauderer, and his two children.
2018-2019 Season
Past Programs You May Like